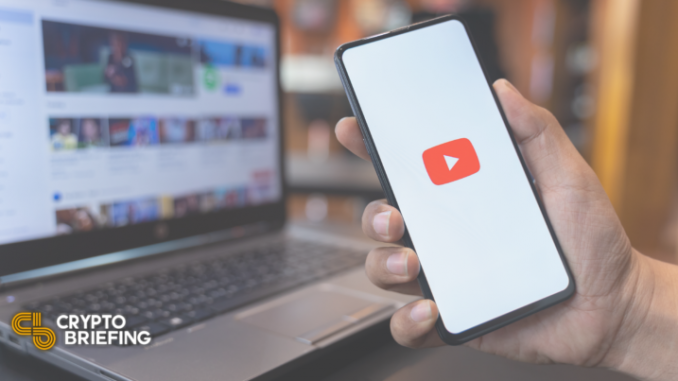 Key Takeaways
Today, YouTube CEO Susan Wojcicki published a letter outlining the company's priorities for 2022.
According to the letter, YouTube closely watches the Web3 space as a "source of inspiration."
The company is also exploring adding NFT features to provide an additional source of revenue to its content creators.
Share this article
YouTube CEO Susan Wojcicki revealed today that the company is looking into NFTs as a possible way to help content creators capitalize on emerging technologies.
YouTube May Integrate NFTs in 2022
Web3 is teaching YouTube lessons.
In a letter published today, YouTube CEO Susan Wojcicki revealed that the company is exploring adding NFT features in order to potentially provide its content creators with another source of revenue. She said:
"We're always focused on expanding the YouTube ecosystem to help creators capitalize on emerging technologies, including things like NFTs, while continuing to strengthen and enhance the experiences creators and fans have on YouTube."
She also added that YouTube has been "following everything happening in Web3 as a source of inspiration," specifically noting the opportunities that crypto, decentralized autonomous organizations, and non-fungible tokens have made available to creators.
The statement on Web3 and NFTs was part of Wojcicki's letter to the YouTube community outlining the company's priorities for 2022. Besides the potential NFT integration, the company is also looking to expand more into the gaming, shopping, learning, and podcasting niches.
Even though Wojcicki didn't share any specifics concerning YouTube's potential foray into NFTs, it marks the first time Alphabet Inc., the parent company of Google and YouTube, is getting involved in digital collectibles.
Several other content sharing and creation companies have already jumped on the trend. Meta-owned Facebook and Instagram are reportedly already exploring NFT integrations as part of the conglomerate's expansion into the Metaverse. On the other hand, Twitter has allowed NFT collectors to verify and display their digital collectibles as hexagonal profile pictures on the platform.
Wojcicki's letter also signals a potential change of heart towards the crypto industry for the company. Namely, the world's largest video streaming platform had previously gained notoriety amongst the crypto community for censoring and deleting the channels of many crypto influencers on the platform, including Ivan on Tech, Bitboy, Pro Blockchain, Tone Vays, and others.
Disclosure: At the time of writing, the author of this feature owned ETH and several other cryptocurrencies.
Share this article
YouTube Algorithm Continues Crypto Censorship
Crypto YouTubers are under fire from an overzealous censorship algorithm. Ivan on Tech, Pro Blockchain, and BitBoy all reported another round of strikes on seemingly innocuous videos. New Round of…
Despite Crypto Bans, YouTube Now Shows Scam Ads Asking Users to Send B…
YouTubers have reported seeing fake BTC giveaway ads pop up while watching content on the streaming platform. Many users, especially those in the crypto community, are angry and confused as…
Audience Survey: Win A $360 Subscription To Pro BTC Trader
We're doing this because we want to be better at picking advertisers for Cryptobriefing.com and explaining to them, "Who are our visitors? What do they care about?" Answer our questions…
Twitter Launches NFT Profile Pic Feature
Twitter has launched its long-awaited NFT profile picture feature for Twitter Blue subscribers. The feature allows users to link their NFT collection to their Twitter profile and obtain a hexagonally-shaped…
Facebook Changes Company Name to Meta, Plans NFT Support
Mark Zuckerberg has announced that Facebook will change its company name to Meta, though the company's signature social media platform will retain the name Facebook. The company's shares are set…