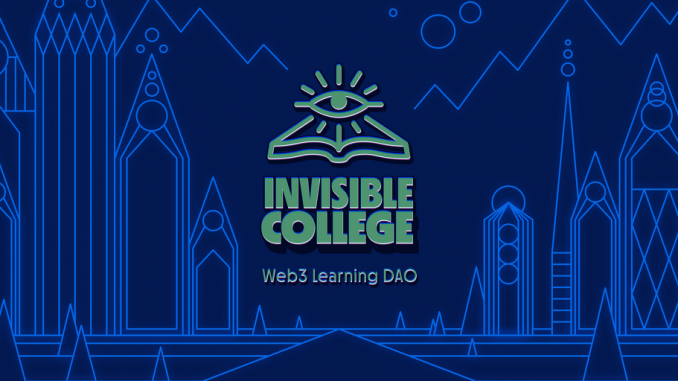 In brief
Invisible College will offer Web3 classes that require an NFT to access.
The DAO plans to mint NFTs next year.
The NFTs will take the form of "decentr-aliens" on the Solana blockchain.
The term Web3 is everywhere, but many people aren't sure what it means or how to join it. That's why a team of veteran educators has launched "Invisible College"—a new platform to teach people about the topic using core features of Web3 itself, including NFTs and a decentralized community known as a DAO.
The curriculum will be voted on by the DAO itself, but is likely to include lessons on topics like how to build a token-based play-to-earn economy, according to one of the "Invisible College" founders, Nick deWilde.
In an interview with Decrypt, deWilde said he has spent years running startup bootcamps and online education ventures, but decided that Web3 offers an opportunity for a radical new education paradigm. Web3, which is synonymous with the metaverse, is an emerging stack of online applications—from games to financial services to artistic communities—that don't rely on a central authority such as Google or Amazon to maintain them.
The most intriguing part of Invisible College's model is its use of NFTs as a form of tuition credit. In practice, this means students will need to purchase one of the college's NFTs—which take the form of animated space creatures known as "Decentr-aliens"—in order to access courses.
One upside of this model is that students will be able to sell the NFT when they are done with the courses, making the tuition they pay an investment they can recoup. According to deWilde, this is an attractive alternative to the existing college model, which relies on collecting ever-higher fees and then badgering alumni to give them even more money.
As for obtaining one of the NFTs, the DAO intends to mint thousands of them early next year on the Solana blockchain, and sell them for 1 Solana apiece (currently around $180). Contributors to the DAO—who are convening on a Discord server—will be given NFTs for their contributions, while the founders will receive a large number of the NFTs themselves.
It remains to be seen, of course, whether all this will work in practice. It's unclear, for instance, whether the DAO will be able to procure a sufficient volume of high-quality lessons to ensure the NFTs become a valued commodity. Meanwhile, DAOs themselves are still an experimental form of governance that, in many cases, see an initial flurry of energy that proves hard to maintain over a longer period.
But unlike some DAOs, which can be little more than vehicles to pump speculative tokens, the Invisible College aspires to build something that proves useful to many people. The project also aligns with the ethos of the crypto community, which is often skeptical of traditional college credentials—many companies boast they prefer to hire from Twitter rather than filter job candidates based on elite degrees.
deWilde says Invisible College is ambivalent about offering formal credentials, saying its focus is on building practical lessons that will let students build projects of their own.
One further issue that will have to be resolved is equity—if the Invisible College NFTs soar in value, does this mean only wealthy people will be able to access its curriculum? deWilde did not have specific answers but says the DAO will likely develop some form of scholarship program.
In addition to deWilde, the other Invisible College Founders are software engineer Drew Bennett, and two other veterans of the eduction field, Jake Fleming and Zac Halbert. Halbert is a designer and Fleming is an artist whose style you can see in this Twitter thread describing his decision to defy NFT skeptics and take the Web 3 plunge:
13/ Here are some of the benefits of joining our learning DAO

– Full Courses– Community– Office Hours– Events

If you're curious, we'd love to have you join our group. pic.twitter.com/Y8Q081u3xw

— Jake Fleming (@jakeflem) December 9, 2021
Class is in session.