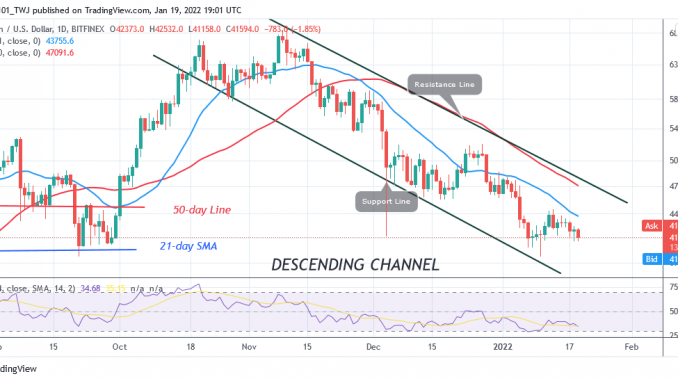 Bitcoin Is Stuck in a Range as It Risks Further Decline below $41k– January 19, 2022
BTC/USD has fallen to $41,552 low as it risks further decline below $41K. In the previous days, buyers were attempting to keep the price above the $44,000 resistance. Bitcoin would have rallied to $48,000 if buyers were successful. Now Bitcoin has fallen to $41,000 low. If the bears succeed in breaking below the $41,000 psychological price level, the cryptocurrency will decline to $39,600 low.
Resistance Levels: $70,000, $75,000, $80,000 Support Levels: $50,000, $45,000, $40,000
Buyers and sellers are struggling with price possession in the middle of price range. Today, buyers can push BTC prices above the $42,000 price level. Sellers are intending to continue to push the largest cryptocurrency to the low of $39,600. At this low, buyers would be compelled to strongly defend the crucial support level. If sellers are successful and break below the $39,600 support, the market would decline to the $30,000 psychological price level. Meanwhile, Bitcoin is still struggling in the middle of price range.
Georgian Citizens Take Oath to Stop Mining CryptoIn Georgia, electrical supply has been disrupted due to hundreds of residents turning to crypto mining.A video cited by local media showed miners crowding a church on Dec. 30, 2021, to pledge a holy oath to St. George that they would not mine cryptocurrency. It is believed that such pledges are unbreakable bonds. These pledges will deal with energy shortages blamed on Bitcoin mining. Svaneti is a mountainous region of Georgia that enjoys free electricity in some parts. This has attracted more miners to the region. This scenario is increasingly common around the world. Bitcoin miners have flocked to countries with cheap energy to the annoyance of residents. In the cases of Kosovo and Kazakhstan, the government has banned crypto mining in those regions.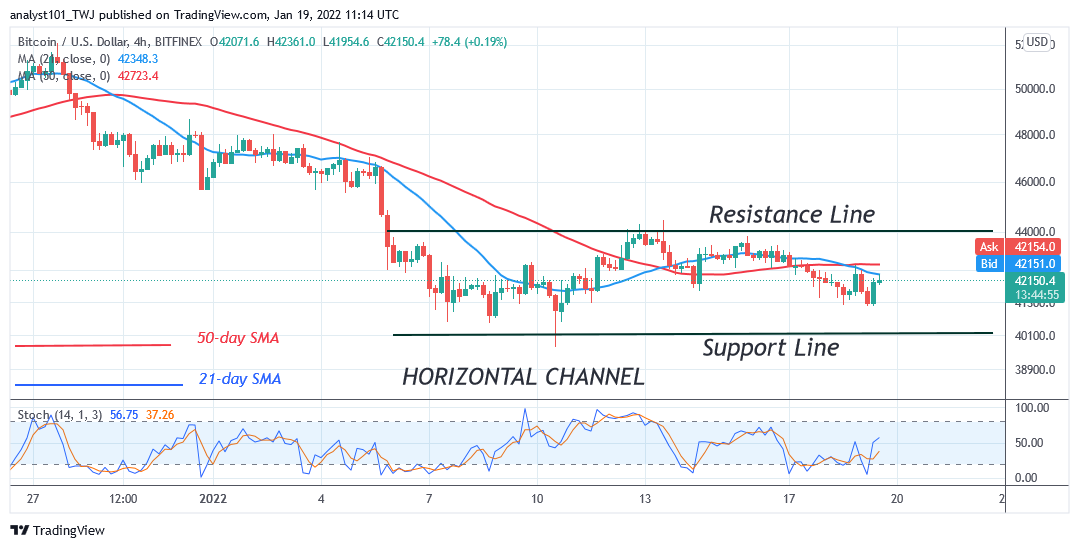 Nevertheless, BTC's price has continued to fluctuate in the middle of the price range as it risks further decline below $41K. Sellers have pushed the crypto to $41,000 low but BTC price has resumed upward. The upward move is still doubtful as it faces rejection at the recent high. The price action is characterized by small body indecisive candlesticks.

Looking to buy or trade Bitcoin (BTC) now? Invest at eToro!
68% of retail investor accounts lose money when trading CFDs with this provider
Read more:•                       How to buy cryptocurrency•                       How to buy Bitcoin