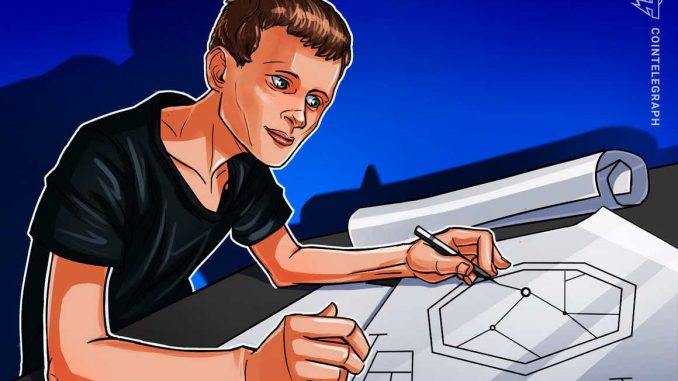 Welcome to the latest edition of Cointelegraph's decentralized finance newsletter.
Despite the market printing bearish numbers for a second consecutive week, the industry is not short of bullish fundamental news. Read on to hear about the most impactful DeFi stories of the last seven days.
What you're about to read is a shorter, more succinct version of the newsletter. For a comprehensive summary of DeFi's developments over the last week, subscribe below.
Vitalik is optimistic for multichain, not cross-chain, Web3 world
Vitalik Buterin, a co-founder of Ethereum, shared a candid assessment of the security limitations in implementing fully functional cross-chain bridges within the blockchain industry.
Buterin argued that storing assets on their native chain provides a higher level of security against 51% attacks than cross-chain activities, stating, "It's always safer to hold Ethereum-native assets on Ethereum or Solana-native assets on Solana than it is to hold Ethereum-native assets on Solana or Solana-native assets on Ethereum."
My argument for why the future will be *multi-chain*, but it will not be *cross-chain*: there are fundamental limits to the security of bridges that hop across multiple "zones of sovereignty". From https://t.co/3g1GUvuA3A: pic.twitter.com/tEYz8vb59b

— vitalik.eth (@VitalikButerin) January 7, 2022
Sharing a series of examples to prove his thesis, Buterin noted that if a malicious entity attempted to launch a 51% attack on Ethereum, a transaction undertaken by an innocent party could be censored and/or reverted, but not blocked and not lost.
In the most extreme cases, users' funds would remain safe even if 99% of the protocol was compromised because nodes would overwhelmingly support the remaining 1% rule-following blocks and, therefore, govern the decision-making.
In contrast, an incident of this kind operating on a cross-chain bridge between Ethereum and Solana, for example, would result in irreversible losses, Buterin argues. The problem compounds with the addition of chains.
Let's suppose a 51% attack occurs on a single of 50 chains. In that case, all of them become vulnerable in what he describes as a "systemic contagion that threatens the economy of that entire ecosystem."
dYdX strives to full decentralization in late 2022
dYdX, the layer-two derivatives protocol, published the fourth iteration of its roadmap this week, presenting plans to develop the platform into an open-source, community-centric and fully decentralized operation later this year.
The architecture operates on a dual-model in which sections of the protocol, such as staking and governance, are decentralized, while core functions such as the off-chain order book and matching engine are controlled by an in-house subsidiary, dYdX Trading Inc and supported by centralized servers such as Amazon Web Services.
"There will no longer be central points of control or failure of the protocol," representatives from the company stated following the v4 upgrade, assuring that "all aspects of the protocol that can be controlled will be fully controlled by the community."
Last month's Amazon Web Service (AWS) technical outage highlighted the true vulnerabilities of a number of crypto businesses, including dYdX, Binance.US and Coinbase, and their inherent reliance on centralized servers to maintain the network.
At the time, dYdX shared a sincere update on its official Twitter account and pledged to seek an unequivocal solution to this matter, stating:
"Unfortunately, there are still some parts of the exchange that rely on centralized services (AWS in this case). We are deeply committed to fully decentralizing, and this remains one of our top priorities as we continue to iterate on the protocol."
Alongside its aspirations for decentralization, dYdX is also pursuing improvements to its interface trading platform, introducing spot, margin and synthetic trading opportunities, as well as appointing an external auditor to appraise business operations.
Near Protocol raises $150 million to accelerate Web3 adoption
Proof-of-stake blockchain Near Protocol raised $150 million in seed investment this week to enhance the awareness and adoption of Web3 applications within its network, with an inherent focus on expanding its audience and community base to the regions of Latin America, Turkey and India.
The capital raise was led by renowned hedge fund Three Arrows Capital and was further participated by Mechanism Capital, Dragonfly Capital and Andreessen Horowitz's Silicon Valley-based fund a16z. Individual angel investors included British billionaire hedge fund manager Alan Howard and Aave founder Stani Kulechov.
In a Medium blog post, Near Foundation CEO Marieke Flament shared her optimism on the latest funding, around which succeeds the previous total of $65.9 million raised by the company:
"We are delighted to have such a fantastic list of backers supporting NEAR's mission. We are looking forward to leveraging the funding to improve access to blockchain technology in an ever-growing list of countries across the world."
In October 2021, the smart contract platform allocated $800 million for new initiatives within the decentralized finance (DeFi) space, such as developer applications, startup grants and geographical fund pots.
Token performances 
Analytical data reveals that DeFi's total value locked slightly decreased by 2.77% across the week to a figure of $128.15 billion, continuing along with the wider market decline.
Data from Cointelegraph Markets Pro and TradingView reveals that DeFi's top 100 tokens by market capitalization have mainly been bullish over the last seven days.
Secret (SCRT) took the lead for a second week with 15%. Terra (LUNA) rose by 6.32%, while 1inch Network (1INCH) posted gains of 2.9%.
Interviews, features and other cool stuff
Thanks for reading our summary of this week's most impactful DeFi developments. Join us again next Friday for more stories, insights and education in this dynamically advancing space.