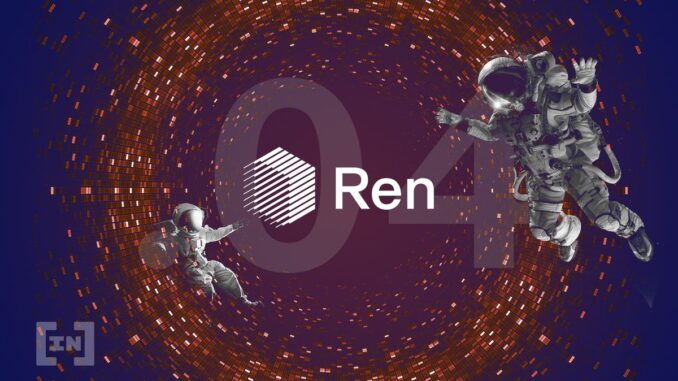 Ren recently launched its Ren Virtual Machine (RenVM) mainnet v.04. It includes improvements to the Ren network that bring it closer to realizing its dream of a self-sustaining DeFi platform.
"Successfully launching RenVM's mainnet is a critical step in our long-term mission of creating a decentralized platform for DeFi that is self-sustaining and advances the industry as a whole," said CEO and co-founder of Ren Taiyang Zhang in 2020.
At the beginning of May 2021, REnVM launched its latest improvements. These included enabling Greycore activations, new fee improvements as well as announcing support for new blockchains.
RenVM helps move crypto
RenVM is a permissionless, decentralized, virtual machine protocol. This network powers its foundational decentralized interoperability solution.

The Ren protocol aims to provide liquidity to different blockchain platforms. This allows users to participate in financial processes or programs that are not available on their current platform.
If the user wants to move ethereum to the bitcoin blockchain, with the two blockchains usually being incompatible, they can use RENVM, which acts as the bridge between the two networks. This is also known as cross-chain liquidity.
REN has been refining the network, leading to some encouraging results. It has seen 100% uptime with an incredible zero loss of funds. So far, it has conducted $5 billion in cross-chain volume.
Ren's Chief Technical Officer Loong Wang explained the new updates are a huge step forward towards accessible decentralization of DeFi:
"By far and away, the biggest change is that it opens the way for RenVM to move forward to the next phase of the project. This upgrade will allow consensus to be decentralized. It also allows governance of rename to be decentralized."
Key v0.4 changes
Greycore activation
This activation collated all the improvements made since May 2020. These members will first be moved over to the testnet before being shifted to the mainnet once everything is stable.
RenVM fee improvements
The fee upgrade puts RENVM in a position to hold and give out fees inside RenVM instead of using other host chains such as Ethereum.
The improvements make their fee process more cost-effective as ETH gas is unnecessary to claim rewards for dark node operators.
This leads to a greater profit and should increase revenue by 5 to 10%.
Loong did say that the fee improvement may take longer to implement. However, they place a lot of emphasis on this upgrade as they need it to start a community-governed fund.
The fee improvement also allows the RenVM to create smart contract capabilities, but this still has some time to go. 
Streamlines new blockchain support
With the new improvements made to the network, it is now far easier to give support to new chains.
Loong explains that they are hoping to increase their chain tally by at least six but that every chain is different and have their own sets of challenges.
"Having said that, every chain is different — at a different stage of maturity, stability, complexity, and even feature-sets — so it is impossible to say for sure which chains will make it into this blitz."
"However, we are hopeful that we'll add approximately a half dozen new chains. With so many chains supported, we will then turn our attention to sending assets between host chains. For example, sending ETH/ERC20s to Solana, sending SOL/SPLs to Ethereum, and so on," he says.
A careful roll-out
Loong explains that RenVM, V0.4 is being rolled out slowly. This is because they are wary of any bugs that may arise. However, most of the new improvements are already being deployed. 
In the past, major crypto players have raised concerns about these bridges. In August 2020, Ethereum creator and founder Vitalik Buterin expressed his concerns about them.
"I continue to be worried about the fact that these wrapped BTC bridges are trusted….. I hope that they can all *at least* move to a decently sized multisig," Buterin said in a tweet.
Despite the skeptics, this bridging technology will continue to play a role in the growing DeFi space.
Disclaimer

All the information contained on our website is published in good faith and for general information purposes only. Any action the reader takes upon the information found on our website is strictly at their own risk.