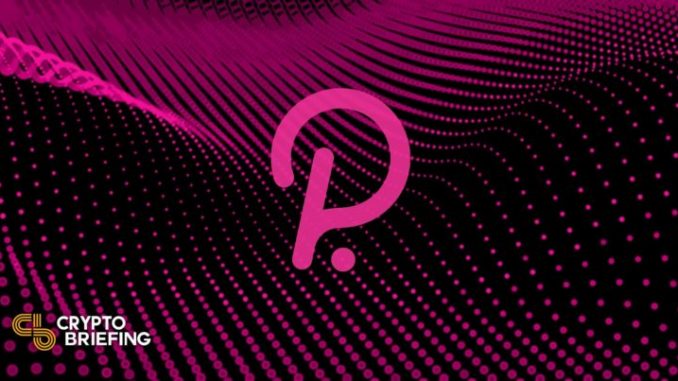 Key Takeaways
Polkadot's first five parachains have gone live.
Acala, Moonbeam, Parallel Finance, Astar, and Clover are the first projects to launch on the network.
The next batch of parachain auctions will kick off on Dec. 23.
Share this article
The first five parachains have gone live on Polkadot. 
Parachains Finally Land on Polkadot
Polkadot has launched its first five parachains, kicking off the blockchain's path to becoming an interoperable ecosystem.
Polkadot has been hosting parachain slot auctions since Nov. 11. Projects hoping to win a slot hosted crowd loans to raise DOT and staked the tokens they received to bid on parachain slots. The first five auction winners were Acala, Moonbeam, Parallel Finance, Astar, and Clover, projects focusing on decentralized finance, cross-chain interoperability, and other use cases. Each project now has a parachain lease until Oct. 20, 2023. 
Acala, a project aiming to create a DeFi hub on Polkadot, is among the most anticipated parachains set to deploy on the network. The project's co-founder Bette Chain said of the launch:
"We couldn't be more excited to be launching Acala's parachain to provide a DeFi platform and native, decentralized stablecoin to the Polkadot ecosystem and beyond."
Polkadot is a smart contract blockchain that will host up to 100 parachains. Founded by former Ethereum CTO Gavin Wood, it focuses on enabling application-specific parachains to communicate with each other. Parachains are secured by Polkadot's main central chain, which is called the Relay Chain. Parachain slots are auctioned off to teams over a period of 96 weeks. 
Despite the rapid growth in the number of public blockchains, interoperability between chains is yet to mature. Sending tokens and data across chains presents challenges because every the blockchain ecosystem is fragmented. While many interoperable bridges have emerged, they are generally considered risky due to their dependence on centralized processes such as token wrapping. 
To address the interoperability issue, Polkadot enforces cross-chain communication at the protocol level and natively secures Layer 1 parachains through a process called shared security. Discussing how the parachain model solves the problem of and the novel value they create for Web3 space, Wood said:
"The parachain model was created with the belief that the future of Web3 will involve many different types of blockchains working together. Just as the current version of the Internet caters to different needs, blockchains need to be able to provide a variety of services. Parachains solve this."
With only five parachains operating on Polkadot so far, additional slots will be allocated in batches over the coming months. The next batch of Polkadot parachain auctions is slated for Dec. 23, with auction winners to be awarded on Mar. 11, 2022. 
Disclosure: At the time of writing, the author of this piece owned ETH and several other cryptocurrencies. 
Share this article
Polkadot Holders Are Backing Acala and Moonbeam for Parachains
Moonbeam and Acala Network have raised a combined total of $882 million to bid in Polkadot's upcoming Parachain auctions. Polkadot Projects Await Parachain Auctions Moonbeam and Acala Network look set…
What Are Polkadot's Parachain Auctions?
The Polkadot ecosystem is preparing for one of its biggest events to date: the launch of parachain auctions.  Polkadot Prepares for Parachain Auctions  Layer 1 smart contract platforms like Solana,…
What is a Crypto Airdrop: Why Projects Airdrop Crypto
Crypto airdrops occur when new tokens are freely distributed to different wallets in order to drive initial growth and build a community. They represent a popular marketing tactic that new projects use to spread…
Is Polkadot Ready to Rebound to New Highs?
Polkadot could be gearing up for a sustained rebound toward new all-time highs, depending on DOT's ability to hold above a crucial support barrier. Polkadot Holds at Crucial Support Polkadot…