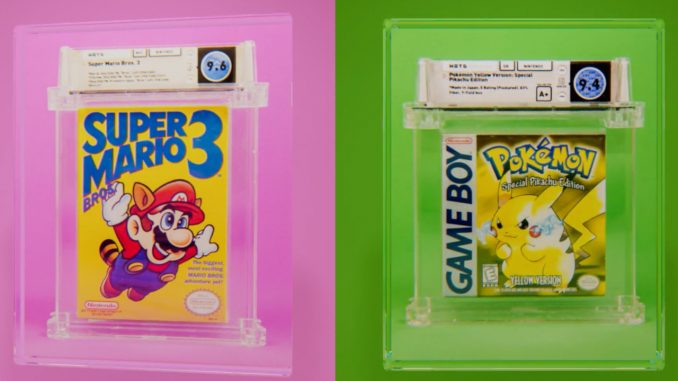 As both fractional and traditional non-fungible tokens (NFTs) have seen exponential growth this year, the firm Otis has announced the launch of a marketplace called Otis House. The platform is a new NFT project that turns physical items into NFTs, and the tokens can be traded at any time for the physical items stored in a vault. The platform has launched the auction of six assets that include a vintage Super Mario Bros 3 video game and a rare Bob Ross painting.
Otis House Aims to Bridge NFTs and Physical Collectibles
While NFTs have been a hot subject in 2021, Bitcoin.com News has reported on a number of interesting projects that use NFT technology in a different way. For instance, Bitcoin.com News spoke with the popular American rapper Ja Rule in September about his startup Flipkick.io, a platform that leverages both physical and digital NFTs from artists, celebrities, and creators who want to monetize their work. Our newsdesk has also discussed fractional NFTs on a few occasions and highlighted four projects dedicated to divisible NFT tech.
One of the startups featured in the article among Unicly, Fractional, and Daofi is the company Otis. Otis has announced the launch of Otis House which aims to offer a different method of non-fungible token technology because the NFTs are tied to real-world items. Otis has offered NFT auctions in the past and on July 29, Otis introduced a limited edition NFT collection by the recording artist Grimes. The new NFT auction platform "turns rare [and] physical collectibles into NFTs, [and] NFTs purchased through Otis House can be traded in at any time for the physical item."
Otis House claims to offer a bridge between NFTs and physical collectibles. Essentially, a collector sends a physical item to Otis House and the item is stored, authenticated, and insured in a vault. Following the vault process, which has to be an item valued at more than $5,000, Otis will mint an NFT to represent the vaulted collectible. Otis says that auctions will happen on the platform regularly and at any time, the owner with an authentic NFT can trade the digital item for the physical collectible. "Otis will destroy the NFT and ship the collectible to the owner," the company's announcement on Wednesday details.
1971 Bob Ross, Super Mario Bros. 3, Lebron James Rookie Card
Currently, Otis House has six collectible assets that are up for auction. The collectibles include a 1993 Simpsons Matt Groening DeBart card (PSA 9), a 2003 Topps Chrome Lebron James Rookie card (PSA 10 Gem Mint), a Pokémon Yellow Gameboy video game (Wata 9.4) Special Pikachu Edition, a Nintendo Super Mario Bros. 3 (Wata 9.6), and a 1971 Bob Ross painting. Currently, the auctions have more than four days left to close at the time of writing. The Pokémon Yellow Gameboy video game currently has a bid for 1.2 ETH worth around $4,878 at press time.
According to Otis, anyone can submit a collectible with a value above $5K and all items will be stored in temperature and humidity-controlled vaults in either Delaware or New York City. "Owners can list and sell the item via auction, take out a loan against the NFT, or a group of buyers can Partybid or create a DAO to co-own the item together," the startup's website details. "Buyers can redeem the NFT to possess the physical item where we will ship it, they can sell it again on the marketplace, or fractionalize it. The possibilities are endless."
What do you think about the Otis House launch and the ability to mint and trade NFTs with physical collectibles? Let us know what you think about this subject in the comments section below.
Image Credits: Shutterstock, Pixabay, Wiki Commons, Otis House,
More Popular News
In Case You Missed It