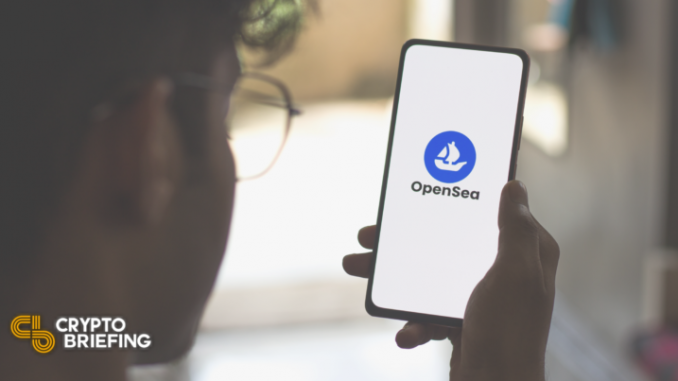 Key Takeaways
Brian Roberts, CFO at OpenSea, said the company has no immediate plans for an initial public offering.
On Monday, the CFO had told Bloomberg the platform might go public, which was met with intense criticism.
Roberts added that if there ever were an IPO, the platform "would look to involve the community."
Share this article
After receiving backlash from its community, OpenSea CFO Brian Roberts has backtracked on tentative IPO plans.
Update on OpenSea IPO
In a Twitter post, Brian Roberts, CFO of OpenSea, said the company has no immediate plans for an initial public offering.
OpenSea is the largest marketplace for trading NFTs. On Monday, its newly appointed CFO told Bloomberg that the company was considering raising funds via an IPO. However, this revelation was met with criticism from community members.
After the backlash from the OpenSea community, Roberts, who was previously the CFO at Lyft, clarified OpenSea was merely mulling about going public and not actively planning it. Commenting on the matter, Roberts said: 
"Let me set the record straight: there is a big gap between thinking about what an IPO might eventually look like & actively planning one."
In the same tweet, Roberts added that if there ever were an IPO, the platform "would look to involve the community." However, the executive did not explain how its community may be involved. 
Some NFT investors lambasted OpenSea's consideration of a traditional fundraising model over a Web3 model, with a number of members of the community outraged at what they view as a shift in focus away from the OpenSea community and toward institutional investors.
Today's statement from Roberts has been interpreted by some to mean that a potential OpenSea airdrop and a governance model may be still on the cards. However, without a confirmation from OpenSea, it's difficult to predict that with any certainty.
If OpenSea did an IPO, it would mean the project would relinquish the idea of an OpenSea token and function more similarly to popular exchanges like Coinbase, whose $50 billion IPO made headlines earlier this year.  A no-token path means no airdrops or lucrative rewards for users, which are common among crypto projects seeking to achieve decentralized governance. Several top crypto projects, such as Ethereum Name Service (ENS), UniSwap, and dYdX, have airdropped users in the past. 
It will be interesting to see whether OpenSea tokenizes the project and moves to DAO-style governance or if it embraces the traditional fundraising route.  In July, OpenSea raised $100 million in a round led by a16z at a valuation of $1.5 billion.
According to TokenTerminal, the platform generates monthly revenue of $55 million. It's noteworthy that for a highly profitable company like OpenSea incorporated in the U.S., it might be easier to issue an IPO than to issue a token and risk possible securities law violations. 
Disclosure: At the time of writing, the author of this piece owned ETH and several other cryptocurrencies.
Share this article
OpenSea IPO Plans Met With Criticism From NFT Community
Former Lyft CFO Brian Roberts has joined OpenSea and plans to take the company public, but many members of the NFT community disapprove.  OpenSea Planning Initial Public Offering One of…
How SocialGood Is Offering 100% Crypto Cashback on Online Shopping
In recent years, the rise of Bitcoin and tokenized assets has made the cashback vertical ripe for disruption. Within the cashback market, blockchain-based loyalty networks are rising in popularity among…
OpenSea Employee Found Insider NFT Trading
Nate Chastain, who heads product development at OpenSea, the largest NFT marketplace in the world, is facing accusations of insider trading from the crypto community. OpenSea Admits Insider Trading Nate…
OpenSea Raises $100M for Multi-Chain NFT Plans
The NFT space has a new unicorn: OpenSea.  OpenSea Plans Multi-Chain Move OpenSea, one of the leading marketplaces for the NFT space, has become the latest crypto unicorn.  The firm…