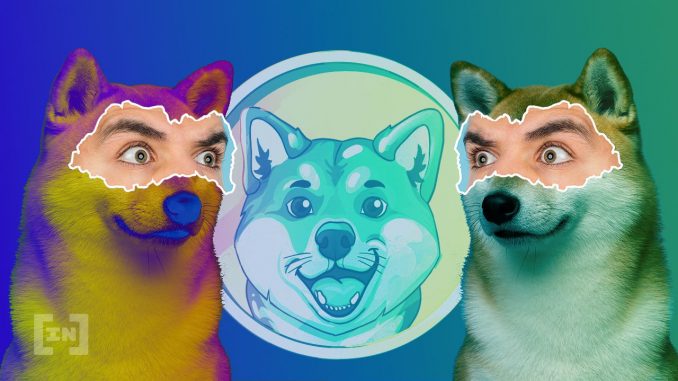 Hi, everyone! Welcome to another BeInCrypto AMA Session!
Today we welcome Steve (@allintocrypto on Telegram), the Chief Marketing Officer of NEXT SHIB.Here is how things will go.
I'll ask Steve 10 questions. Afterward, he will pick five of the questions you all submitted before the session.
(This AMA has been edited for clarity)
BeInCrypto (BIC): I want to ask you something general to kick things off. Please provide some background and references you guys looked at before creating NEXT SHIB.
Steve: It's an honor to be here with the BeInCrypto community and do this AMA. I'm Steve and the Chief of Marketing for NEXT SHIB.
I'm part of a team of around ten workers; most of them have a professional background in blockchain development. I love to be a part of it since the most excellent ideas nowadays come from developers. It is great to push that into the market.
I believe that the complete NEXT ecosystem can become huge; there is a lot of work to do here. 
I got involved in NEXT last year after some talks with them and visiting their office in the High Tech Campus in Eindhoven (a lovely place and well-known in and outside the Netherlands).
After the warm welcome and lots of coffee, hearing about their vision and goals, which are insane, and frankly, I decided to support them and shout about creating a meme coin to get the marketing going. The idea of NEXT SHIB was born. 
BIC: Some members might say, "Here comes another meme coin." However, I'm sure you guys envision a real plan for NEXT SHIB. What would you tell these members about the primary purpose of NEXT SHIB?
Steve: The perspective of meme coins changed in 2021 as a whole. Meme coins are trendy these days and can gain much attention and brand awareness. Meme coins are driven by communities, which add more value to them. 
We thought about how our meme coin could stand out, as several meme coins get launched every day. For example, Safemoon, Baby DogeCoin, and Floki showed huge gains.
All these meme coins have one thing in common: they are deploying a complete ecosystem, a vast community, and an ambitious roadmap—one that we already have. NEXT SHIB is part of an extensive ecosystem, including a superfast instant blockchain, NFTs, and DeFi wallet platforms like Trust Wallet. We got it in place.
However, what would you do with a great ecosystem if nobody knew about it? That was the primary purpose of launching NEXT SHIB, a cute "dog" that will lead crypto traders to a giant ecosystem that they can be part of.
We added some killer features, too, which we will explain further in this AMA. We believe NEXT SHIB can become a rocket, and big influencers will see the potential of our ecosystem and get involved with it. We are not just a meme coin; we're so much more. 
BIC: NEXT Shiba ($NEXTSHIB) is the mascot of the NEXT Smart Chain. What are some advantages of using this network for NFTs, DeFi, and smart dApps?
Steve: NEXT Smart Chain (NSC) is a DAG+aBFT Ethereum-based blockchain aimed at eliminating exorbitant ETH prices and network congestion.
NEXT Smart Chain can offer up to 300K transactions per second at a dirt-cheap price of $0.0001 per transaction. It's as secure as Ethereum and starts with over 200+ validators. From the beginning, we are motivated to become an excellent blockchain network. 
We are not just some newcomer; we were built over the years by a prominent trader's network and a community we rely on. NEXT Smart Chain is also 100% EVM-compatible. We will clone all successful projects directly on NSC, like Uniswap and OpenSea. Step by step, we will add value and expand our blockchain with decentralized apps. 
Besides that, every token (ERC20) and NFT (ERC721) that exists on Ethereum, Binance Smart Chain, and Polygon can jump over.
They can all cross over and use our network. It is excellent for NFTs, too, since trading will be superfast and at zero cost. It's the same for DeFi and wallet providers.
Why wait seconds when your transaction can be done instantly? NEXT SHIB will lead them and promote all these projects. We will inform all NEXT SHIB holders about new features and projects to be listed. Holding NEXT SHIB to get insights is one of the reasons to get on board.
We are an under-the-radar blockchain project, and there is plenty of room to grow. 
BIC: I see. Would you mind talking a little bit more about the killer features we're going to see on NEXT SHIB? Maybe those resources that genuinely make you stand out?
Steve: We included in the smart contract a 5% burning mechanism in place so that from every transfer or sale (not buy), 5% of NEXT SHIB will be burned; it's deflating the total supply.
Secondly, we want to have a fair launch, a mechanism specifically designed to avoid whales and bots. After the presale, we will burn all unclaimed tokens to make it a 100% community-driven coin.
There will be no team coins and no owner (we will renounce the ownership of the smart contract), and we will launch with 25% liquidity locked permanently/forever on Dexes like Pancake and Uniswap.
The rest of the funds are going straight into marketing to keep NEXT SHIB in the eye of the community and the general public.
This will ensure that we launch as fair as possible. Marketing (also after the sales) combined with a low price per token and a market cap lower than 500k will help NEXT SHIB achieve its full potential. 
BIC: What about NEXTRONAUGHTS? Can you please talk more about them, what they are, and how to participate in the whitelist process, among others?
Steve: NEXTRONAUGHTS represents the NFT version of NEXT SHIB. We created 7777 NFTs and seven ultra-rare ones.
The ultra-rare ones look like Julias Caesar, a pirate, Darth Vader, Albert Einstein, Elon Musk, and Donald Trump. They are unique and based on the space theme.
These NFT cryptos will explore the crypto universe, and you can become part of it. They will become the main characters in a crypto adventure game. 
We started with the whitelisting process, and will adequately launch them on different blockchains, like Solana and NEXT Smart Chain.
BIC: Cool. It's time to introduce your native token to our community! What do you have to say about $NEXTSHIB in terms of tokenomics and how it fits within your ecosystem?
Steve: We keep the tokenomics very simple. A total supply of 100B will be spread on multiple blockchains. Currently, the figures are 10B on Ethereum, 40B on Binance Smart Chain, 10B on Polygon, and the rest on NEXT Smart Chain. 100% of the tokens are in the hands of the community.
Unsold tokens will be burned. With all tokens sold, it will have a market cap of $500k. 
BIC: Several projects currently use specific strategies to maximize the number of holders. What are some of the benefits for those who hold your tokens? Do you also have a similar approach?
Steve: We spend no less than 75% of the total amount raised on marketing. After the sale, we will bind influencers to NEXT SHIB and bring great projects promoted by NEXT SHIB on the NEXT Smart Chain.
All holders will receive insider info and great crypto deals. To maximize the number of holders, we will establish a social network and access a "secret" restricted area on our website.
We can easily detect who is a token holder or not. Regularly, we will inform all holders about the plans and become a part of them.
Imagine the power of a large community interested in crypto and where members can discover the best projects out there.
They have exclusive access to a DeFi/NFT launchpad where they can give new projects a good boost and the outreach they deserve. With all the experience we have, we can help them in marketing and developing their projects. We ensure that our holders get exciting news and updates to be part of it. 
BIC: What's the current status in case anyone wants to purchase your tokens? I bet some of our members are curious about how to buy some $NEXTSHIB right now. 🙂
Steve: We only make a direct sale from our website, where users can buy directly on Ethereum, Binance Smart Chain, or Polygon. We make the process as simple as possible. We have included documentation, which explains step by step how to buy tokens. After a successful purchase, buyers will see how many tokens they can claim. Claiming is possible after the token sale has ended. Here is the link to become part of NEXT SHIB.
BIC: A fully-packed roadmap is something quite valuable in any project. What can enthusiasts/investors expect when it comes to future plans? What do you have in mind for NEXT SHIB in the next few weeks or months?
Steve: First, we want to finish the ongoing token sale. We have already reached over 100 BNB, which we see as an excellent achievement for a meme coin. After all, most meme coins are launched without making a token sale.
After the token sale, we will start with the listing on PancakeSwap (BNB), Uniswap (ETH), and SpookySwap (MATIC) with 25% liquidity locked forever.
Our next milestone is to get over 1,000 holders by leveling up the marketing (75% of the funds will be used). We will scale up with press releases and contracting with influencers on YouTube, Twitter, and Instagram to ensure our growth.
For a meme coin, it's pretty simple—get continuous marketing ongoing to keep the coin under the crypto community's attention. We will boost it further with our ecosystem and a social network of NEXT SHIBers to form a meme army.
Awesome, that's it. I'm pretty sure we've covered all the main topics today. Could you please share the links to your social media channels so that our community can get to know NEXT SHIB a little better?
TelegramTwitterDiscordFacebookTikTokInstagramReddit
How long did the testing process take to create the next smart chain? How did you test it? How does it enable low-cost and extremely fast transfers?
Steve: Everybody is able to test it already. The details are on https://nextsmartchain.com. Connect your metamask to it and join the telegram to get NEXT tested. It's superfast you will find out.
What aspects of deploying a new blockchain based on Ethereum came to mind when you looked at the strengths and weaknesses of other smart chains while building the technology in NEXTchain? For what purposes was NEXTchain's technology primarily created?
We all know how costly ETH is to upload smart contracts and to execute transactions. Besides, most Layer 2 blockchains also became too expensive to make DeFi work correctly. In the future people will pay on a decentralized network and it's better to make it as cheap and fast as possible. That is why we built NEXT Smart Chain.
Can NEXT Smart Chain's MEME token be staked? How do we earn passive returns with these tokens? Can we use these tokens to launch low fee tokens and complex dApps?
Steve: Yes they can be staked by putting them on NEXT Smart Chain. Instead of burning, we will redistribute them to holders which stake the NEXTSHIB MEME token. We only redistribute on NEXT Smart Chain since it will be at zero gas costs.
What opportunities will you create for all NEXT owners to benefit from? Do you have airdrop rewards and incentives for long-term investors?
Steve: By holding NEXT (see where to get them on https://nextsmartchain.com) you buy your ticket for getting native NEXT on the NEXT Smart Chain, like ETH is for Ethereum. With NEXT we support a lot of decentralized apps, buy tokens/NFT's with it, pay with your wallet etc.
By putting a lot of dapps on it, more and more users will join. The best thing is that we will stay away from BTC, ETH as a separate blockchain network, so it will not affect us when the market is bleeding, like today.
What is the support of your DAG technology in commissioning NEXTchain? Why do you trust DAG technology? What advantages does it provide for NEXTchain?
Steve: I'm not the technical guy here, but we use DAG to solve the problems with gas fees. Secondly, to make the blockchain super fast, we can process over 300 transactions per second, and with DAG, we are not an energy guzzling coin.
Disclaimer
All the information contained on our website is published in good faith and for general information purposes only. Any action the reader takes upon the information found on our website is strictly at their own risk.