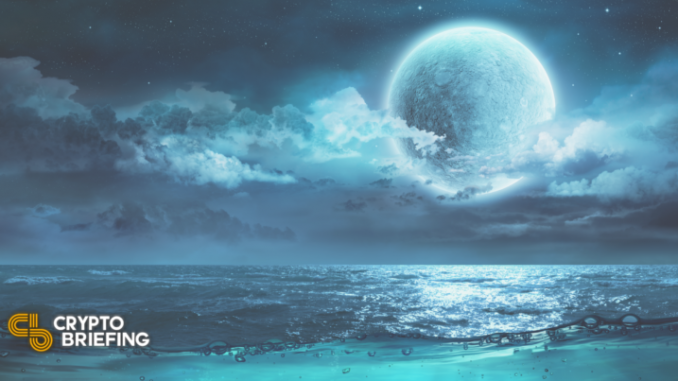 Key Takeaways
Moonbeam has completed its parachain launch on Polkadot.
Crowdloan contributors can now claim their Moonbeam token rewards and stake them on the network.
Key infrastructure is set to go live on Moonbeam over the coming weeks, including Chainlink and The Graph.
Share this article
The Moonbeam Network has announced the completion of its launch process, becoming the first fully operational parachain on Polkadot. 
Moonbeam Debuts on Polkadot
The era of Polkadot parachains has begun.
Moonbeam became the first fully operational parachain on Polkadot Tuesday, completing its three-part launch process that started three weeks prior on Dec. 17. The full launch has removed the network's superuser key, handing control directly to Moonbeam token holders. 
The first stage of Moonbeam's launch started with centralized block production. Once developers confirmed everything was running smoothly, independent collators were added to help decentralize the network. Now that Moonbeam has fully launched, the network has reached a minimum of 48 collators and has activated Ethereum compatibility and token staking.  
Those who contributed to the Moonbeam parachain auction crowdloan that took place in November can now start claiming their Moonbeam governance token rewards. Initially, contributors can claim 30% of their total allocated GLMR tokens, plus an additional three weeks' worth of vested emissions starting from when the launch process began. The remaining 70% of rewards will be released incrementally over the next 96 weeks. 
Token holders can also start delegating their GLMR tokens to a collator to earn staking rewards. The reward distribution is based on the number of tokens a user has contributed versus the total amount bonded to the collator, similar to how staking rewards are distributed on other Proof-of-Stake chains. 
Moonbeam's GLMR token has enjoyed a strong start to trading, climbing 66% on the day. The token is currently trading at $17.44 at press time.
Moonbeam is an Ethereum-compatible smart contract platform built on one of Polkadot's parachain slots. As a parachain, Moonbeam is secured by the main Polkadot relay chain and will enjoy interoperability with subsequent parachains as they go live. 
Because Moonbeam is compatible with the Ethereum Virtual Machine, developers can easily port over applications from the Ethereum mainnet with relatively few changes to the underlying code. As such, in the weeks following Moonbeam's launch, key infrastructure from Ethereum is set to launch on the network, including Chainlink oracles, indexing protocol The Graph, and several multichain bridges. 
Before establishing itself on Polkadot, Moonbeam launched its Moonriver companion network on Polkadot's canary network called Kusama. Like Moonbeam, Moonriver is also EVM-compatible and currently hosts 30 applications, including many multichain protocols such as decentralized exchange Sushi and yield optimizer Beefy Finance. Following the success of Moonriver, many in the Polkadot community are hoping Moonbeam will also be able to foster a thriving DeFi ecosystem.  
Disclosure: At the time of writing this feature, the author owned ETH, GLMR, DOT, and several other cryptocurrencies. 
Share this article
Polkadot Holders Are Backing Acala and Moonbeam for Parachains
Moonbeam and Acala Network have raised a combined total of $882 million to bid in Polkadot's upcoming Parachain auctions. Polkadot Projects Await Parachain Auctions Moonbeam and Acala Network look set…
What Are Polkadot's Parachain Auctions?
The Polkadot ecosystem is preparing for one of its biggest events to date: the launch of parachain auctions.  Polkadot Prepares for Parachain Auctions  Layer 1 smart contract platforms like Solana,…
Web3 – What it is, What it Means, and How We'll Transition
We are at the dawn of a new era of the internet. Bit by bit, this new digital world, and all that it enables, will slowly become a part of…
Polkadot Ready for Kusama Parachain Auctions
Polkadot's founder Gavin Wood has announced that parachain auctions on Kusama should take place from next week. First Parachain Auctions to Launch Parachain auctions on Polkadot's canary network Kusama will…