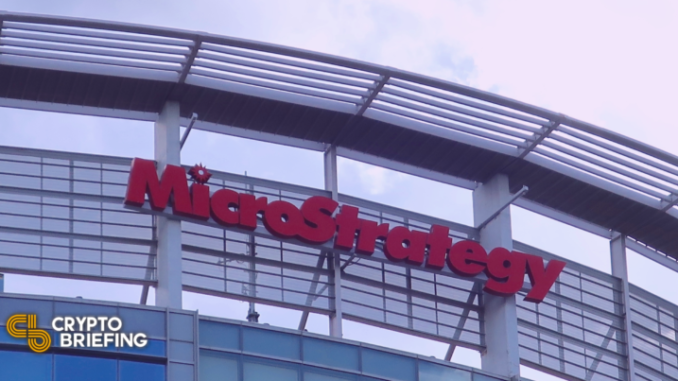 Share this article
MicroStrategy has announced the sale of $400 million in senior secured notes due 2028 in a private offering to qualified institutional investors. The $400 million sum will be used to buy Bitcoin. 
MicroStrategy Plans Bitcoin Buy
Michael Saylor isn't done accumulating Bitcoin.
The MicroStrategy founder announced a proposed private offering for $400 million of senior secured notes to acquire Bitcoin Monday.
MicroStrategy Announces Proposed Private Offering of $400 Million of Senior Secured Notes to acquire additional #bitcoin. $MSTRhttps://t.co/ilhUt1M73j

— Michael Saylor (@michael_saylor) June 7, 2021
MicroStrategy has previously sold $1.05 billion in private notes to invest in Bitcoin. The most recent raise was in February when it announced a $690 million investment fund of senior convertible notes. 
Convertible notes differ from secured notes in that the former gives an option to change to MSTR stocks, while the latter doesn't.
Such notes provide two key advantages. First, they are secured by the asset backing the debt (in this case, Bitcoin). The "senior" category also takes precedence over other settlements in case of bankruptcy. 
MicroStrategy Services Corporation, an arm of MSTR, will handle the sale. 
Only investors qualified by the SEC rules can participate in the "private sale" of these notes. This is likely to entail accredited investors only. The firm will purchase Bitcoin after the completion of the sale. 
The company has also introduced a structural change by forming subsidiaries. A newly formed subsidiary, MacroStrategy LLC, will manage its BTC holdings.
The business intelligence firm's treasury currently commands 92,079 BTC, worth $3.3 billion at today's prices. 
Share this article
How Microstrategy CEO Turned "Scary" Bitcoin Investment In…
Michael Saylor, CEO of Microstrategy, recently made headlines for revealing that he personally owns $245 million worth of Bitcoin. His company's stash is nearly double that.  Under Saylor's leadership, Microstrategy…
MicroStrategy Buys Bitcoin Dip, Now Holds 70,784 BTC
MicroStrategy just spent another $10 million on Bitcoin. The purchase brings MicroStrategy's holdings to 70,784. MicroStrategy Buys Bitcoin, Again MicroStrategy isn't done buying Bitcoin just yet. The business intelligence giant,…
MicroStrategy Plans Another $690 Million Bitcoin Injection
MicroStrategy has announced the sale of $600 convertible senior notes due 2027 in a private offering to "qualified institutional buyers." This is a second identical offering from the business intelligence…
What is Polygon (MATIC): Ethereum's Internet of Blockchains
In terms of both decentralized app (DApp) development and adoption, no blockchain has been more successful than Ethereum (ETH). But despite its relative success, the Ethereum network still contains several…