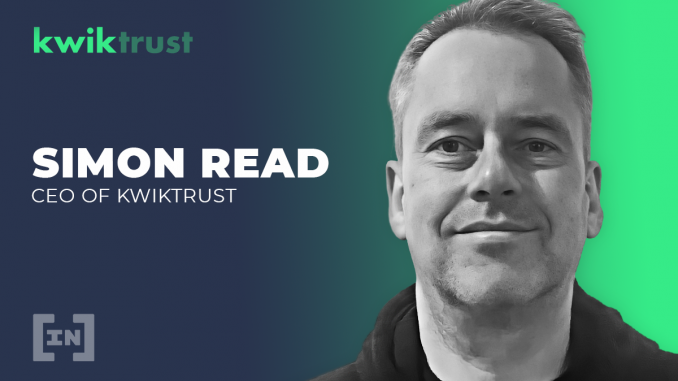 Simon Read is CEO at KwikTrust, the next-generation digital signing platform and the birthplace of the SuperNFT.
He is also a Director at Insanity, a global diversified media group, as well as a  judge and mentor at We Social Tech, a growth accelerator program sponsored by Deutsche Bank.
He has over 23 years of professional experience founding successful early-stage companies. Simon received certification from the University of Oxford's Blockchain Strategy Programme.
In this interview, we learn more about KwikTrust, the growing competition in e-document security and validation, as well as NFT utility, and goals for 2022. 

Q1: Can you please tell us a bit more about yourself and the inspiration behind KwikTrust.
Simon Read (SR): My background is in tech. I first built a B2B company back in dot com times and went through the process of identifying a problem that needed to be solved, building a team, and raising venture capital investment.
With that project, we raised $2million in seed investment and won a place on a tech accelerator. It was a baptism of fire and I got to work with some really smart people, so it was a great learning environment.
That's where my love of the tech space originated — it's fast-paced, creative, and requires agile thinking. Since then I've also mentored several tech accelerators and I was a judge for the We In Social Tech accelerator, for female tech founders with a product that creates a positive social impact.
The KwikTrust project was born whilst I was working on a due diligence exercise for a company acquisition. There was so much information to collate and so many parties involved who needed to check and validate the information. I thought there has to be an easier way to do this.
At the time I was just starting to get interested in blockchain technologies and their potential use cases because one of the tech companies I was mentoring had pivoted their business to blockchain. Thereafter the various pieces of the jigsaw were slotted together naturally and KwikTrust was born.
Q2: What is KwikTrust and what is the unique value proposition that differentiates the company from the competition?
SR: KwikTrust is the next-generation e-validation platform and the home of the SuperNFT. 
The platform provides more secure file validation and management, by enabling files to be uploaded and validated. This can include contracts, intellectual property, and proof of ownership of both digital and physical assets.
We can also lock together the asset and owner's validated identity into an NFT to create a transferable asset. This increases security over 'old school' NFTs. We call this the SuperNFT. We've also filed a patent application for the SuperNFT.
Linking the owner's validated identity to the asset enables people to trust higher value assets to NFTs. This in turn opens up the NFT market.
KwikTrust differentiates itself from its competitors by recording information onto the blockchain to create an irrefutable record. We are competing against a combination of DocuSign, Google Docs, and Mintable, but with a much more secure and versatile offering and a better user experience.
KwikTrust's vision is to become the global standard for managing and transferring assets in the digital world.
Q3: How does the KwikTrust token, KTX, provide utility and value to its stakeholders? 
SR: We've designed the KTX utility token to be a fundamental element of the KwikTrust ecosystem. Utilities include the usual governance and discounted services that you might expect from any good quality project, but we've also looked hard at creating a long-term and sustainable demand for the KTX.
The primary use of the KTX is to mint the SuperNFT. As demand for the SuperNFT increases so will demand the KTX. We also provide the opportunity for other projects to integrate the SuperNFT into their platforms.
To integrate the SuperNFT they first need to acquire and maintain a minimum balance of 5,000 KTX. For this reason, we encourage stakeholders to buy and hold the KTX for the longer term.
Q4: What are the use cases that KwikTrust is actively working in now and those that you look to activate in the coming months? 
SR: We have started with the legal sector as KwikTrust solves a major problem in this field. Document authenticity is key to the legal process. Sometimes different parties involved in a court case present different versions of the same document and the Courts have to spend time working out which one is the original. KwikTrust solves this problem.
Other use cases include recording proof of ownership of physical and digital assets, and transferring those assets digitally to another party, including financial assets such as stocks or bonds.
Global legislation is becoming more favorable towards permitting assets to be owned, stored, and transferred in a digital form.
There are also some exciting use cases we are working on with partners involving rainforest management, charitable donations, and new ways of managing fractional ownership.
We will be announcing several new partnerships over the coming weeks.
Q5: Per a recent report by JPMorgan, the NFT market is now worth more than $7 billion, growing massively year-over-year since the advent of Crypto Kitties in 2017. How does KwikTrust look to capitalize on the NFT movement now that it has gone mainstream? And what can KwikTrust offer to assist in overcoming some of the ownership and legal hurdles the industry is facing today?
SR: In my opinion, the NFT market is still in its relative infancy and we haven't seen the true potential of NFTs yet, beyond the digital artworks that we are seeing today.
For the NFT to reach its potential and fully hit the global mainstream it first needs to become more secure. Non-fungible tokens in their current form have severe limitations because they can be lost or stolen and wallets can be hacked. This dissuades people from trusting higher value assets to NFTs.
To see exponential growth in the NFT market three issues need to be solved – identity, provenance, and security. The KwikTrust SuperNFT addresses each of these issues.
The SuperNFT locks together the owner's validated identity with the provenance of the asset and creates an irrefutable record on the blockchain.
This will open up the NFT market to new asset classes – financial assets and deeds of ownership for physical and digital assets.
This will change the NFT market paradigm. We've filed a patent application for the SuperNFT and this will enable us to provide the technology to other platforms and marketplaces.
KwikTrust is right in the middle of the NFT space and we see a future where people will trust higher value assets to NFTs. It's a very exciting time to be in this space!
Q6: What major project developments do you have underway through Q1 2022 and beyond that you can share?
SR: We have a really exciting product roadmap ahead, and we will be releasing new features regularly over the next few months including the SuperNFT, KYC functionality, and multi-signatures for contracts signed on the KwikTrust platform.
The first big milestone for us in Q1 is the final KTX presale round and the KTX token generation event, after which we will be introducing staking pools.
The second big milestone will be the minting of the world's first SuperNFT which we are planning to launch at a major NFT conference in Los Angeles in March. We will be announcing further information about this shortly.
Looking slightly further ahead we will be launching a KwikTrust Protocol Launchpad and Sandbox facility so we can support use cases that utilize the KwikTrust SuperNFT technology.
There are also several strategic partnerships we will be announcing over the next few weeks.
To be the first to know about new developments follow KwikTrust on Twitter or join the KwikTrust Official telegram channel at here.
Disclaimer

All the information contained on our website is published in good faith and for general information purposes only. Any action the reader takes upon the information found on our website is strictly at their own risk.