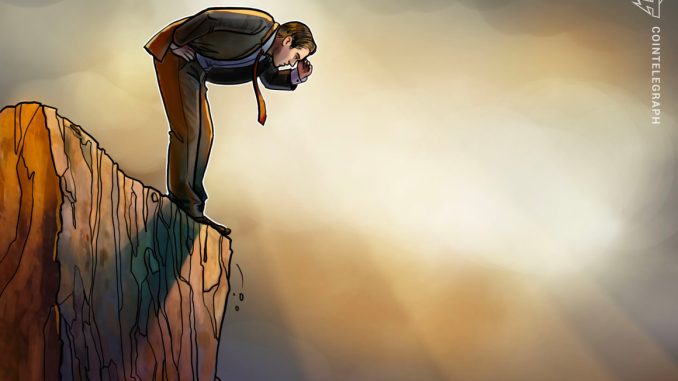 The price of Bitcoin (BTC) has fallen to its lowest in over two months on news that SpaceX has written down its BTC holdings.
BTC price volatility finally returned to the market on Aug. 17 after an extended period of sideways trading in a narrow range, data from Cointelegraph Markets Pro and TradingView confirms.
Bitcoin saw some of its least volatile trading conditions ever this month — a landscape vying only with September 2016 and the start of this year in terms of price behavior.
With the spell sharply broken, market observers are curious what could come next.
Will Bitcoin go up or down? Cointelegraph gathers some of the main BTC price targets as crypto markets recover from their first major shock in several months.
Analyst: $25,000 will be an "epic level" for Bitcoin
Before SpaceX's write-down news emerged, which sent both Bitcoin and altcoins tumbling, traders were hoping that $28,000 would provide strong support.
Bitcoin, after all, was on the way downhill already, but had both multiple support trend lines and the psychological safety net of the $28,000 mark acting in its favor.
This was not enough to stem the bleeding, however, and at the time of writing, BTC/USD is below $26,500.
For popular trader and educator Gareth Soloway, however, it is $25,000 which now forms the main area of interest when it comes to a BTC buy-in.
"Technically, the 28k level has broken. It has about 24 hours to regain that level or probabilities greatly increase it is headed to 25k," he argued in analysis on X on Aug. 18.
"Bitcoin at 25k is going to be an epic level psychologically."
Soloway noted that when BlackRock revealed plans for a Bitcoin spot price exchange-traded fund (ETF) in the United States, BTC/USD was circling the $25,000 area, and the news subsequently sent the market toward $30,000 and above.
With a decision due in the legal battle to launch a different U.S. spot ETF, the converted Grayscale Bitcoin Trust (GBTC), the sense of deja vu is all the more tangible.
"This is where news hit that Black Rock was filing for a spot ETF. The run from 25k to 31k was largely a result of the optimism of its approval," Soloway continued.
"Max pain" for Bitcoiner is $9,000
To the downside, however, $20,000 still looms large as the main feature on the chart, albeit one untouched since mid-March.
"Should 25k break, 20k becomes the next stop. This is a key level because it represents a point where SVB (Silicon Valley Bank and other regional banks) failed. Money ran from banks and hid in BTC," he continued, arguing that there was even a risk of four-digit BTC prices returning.
"Should 20k fail, 52 week (current cycle lows) will likely be tested at $15,700. 12-13K is still very much on the table as a lower target as is 9-10k (max pain)."
Soloway nonetheless said that he did not see a "reason" for a break below the November 2022 cycle floor — except a mass sell-off in risk assets taking U.S. equities back to levels from that time. The last time that BTC/USD traded below $10,000 was in September 2020.
"Smart money who continues to believe in the digital gold aspect of Bitcoin will slowly buy at key supports and DCA. Long term I continue to be very bullish on Bitcoin," he added.
On the topic, Sam MacDonald, head analyst at CCI Australia, nonetheless argued that Bitcoin continues to act as a "fire alarm for global liquidity," hinting that a big stock market crash could be brewing. 
In a potential silver lining, Bitcoin liquidations were already cooling at the time of writing, with the majority occurring on Aug. 17. These totalled the most since the November 2022 FTX implosion, data from monitoring resource CoinGlass confirms.
So much for moving averages
A conspicuous casualty of the overnight crash comes in the form of Bitcoin's 200-week simple moving average (SMA).
Related: BTC price won't hit $100K before 2024 halving — Bitcoin investment exec
A classic bear market support level, the 200-week SMA has seen increasingly tough trading conditions over the past year.
In 2022, BTC price action spent its longest-ever stint below the trend line, and as of Aug. 18, it is once again missing as support.
For Caleb Franzen, senior analyst at Cubic Analytics, however, the "cloud" around the 200-week MA marks a buying zone.
"I wasn't bearish in June when Bitcoin retested the 200-week MA cloud. I'm not bearish tonight when Bitcoin retests the 200-week MA cloud," he wrote in part of X commentary overnight.
Franzen added that $25,000 was his boundary, suggesting that lower levels were unlikely.
Magazine: Should you 'orange pill' children? The case for Bitcoin kids books
The views, thoughts and opinions expressed here are the authors' alone and do not necessarily reflect or represent the views and opinions of Cointelegraph.