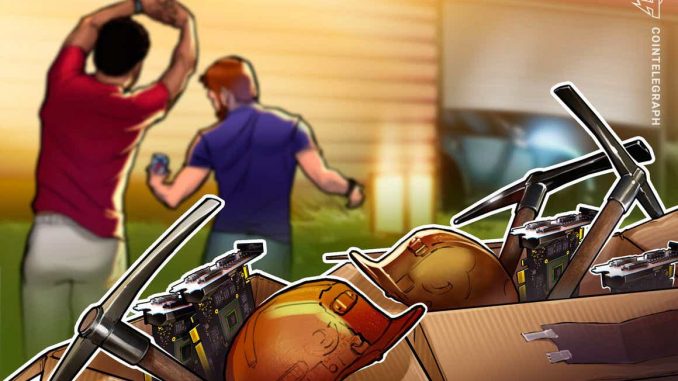 Residents of Svaneti, Georgia, have reportedly been made to pledge a holy oath they will not mine cryptocurrency in order to deal with energy shortages blamed on Bitcoin mining.
The economy of the northwest Svaneti region of Georgia depends on tourism spending, which rose every year from 2000 to 2019 according to Macrotrends. As a result of the Covid-19 pandemic, however, tourism plummeted in 2020 and has only recently begun to return to pre-Covid levels of growth.
To make do, hundreds of residents turned to mining crypto which has been blamed for severely disrupting the electrical supply.
A video cited by local media outlet Sputnik Georgia show miners crowding a church on Dec. 30 2021 to pledge a holy oath to St. George that they would not mine cryptocurrency. Such pledges are traditionally seen as unbreakable bonds.
Crypto mining has become a controversial topic, with residents staging protests in the Svaneti town of Mestia and the electric company that provides them with power, Energo Pro, threatening to increase electricity tariffs.
Svaneti is a mountainous region of Georgia which currently enjoys free electricity in some parts, which makes mining more attractive.
This situation is becoming increasingly common around the world. Bitcoin miners have flocked to countries with cheap energy to the chagrin of local residents. In the cases of Kosovo and Kazakhstan, governments have banned crypto mining in order to preserve the gr.
The municipality of Mestia issued a statement at the end of 2021 explaining the extent to which crypto mining has disrupted the local energy supply. It said, "In comparison with earlier years, consumption has grown by 237% this year."
Energy company Energo Pro called the vast increase in consumption "unsustainable." On Jan. 5, the company stated to local media that the region was consuming 27 megawatts, nearly four times the amount of power the infrastructure was designed to handle.
Related: Bitcoin miners' resilience to geopolitics — A healthy sign for the network
Kosovo in southern Europe recently banned crypto mining due to a dangerous winter supply drain. The Kosovar government seized 300 mining rigs on Jan. 10, forcing mining operations to sell their rigs or move to nearby countries.
Kazakhstan was the second most active country for Bitcoin mining but effectively pulled the plug on miners amid political protests in the first week of this year. An internet blackout in the central Asian country led to a 13.4% decrease in hash power across the Bitcoin network.