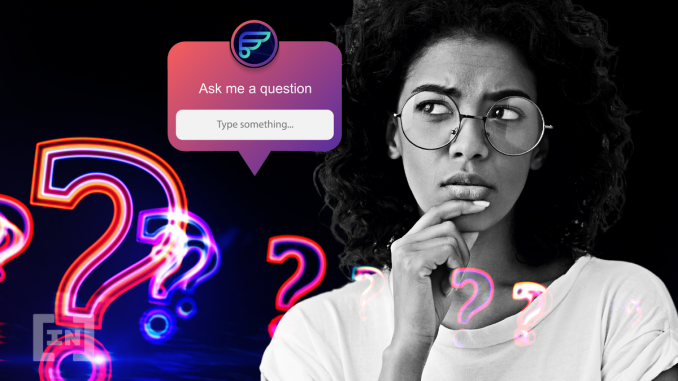 Hi Everyone! Welcome to another BeInCrypto AMA Session!
Today we welcome Jeremy Roberts (@J_Roberts111), who is the CEO of Funganomics.
BeInCrypto (BIC): Community, here is how things will work. I'll have 10 questions for them. After these questions, they will pick up 5 out of all the questions you asked before the session. Good luck to you all!
(This AMA has been edited for clarity)

BIC:  I would like to ask you something general to kick things off, so please provide some personal background as well as some references you guys looked at before creating Funganomics.
Jeremy Roberts (JR): Hello BeInCrypto!
The Funganomics team is built by blockchain enthusiasts, developers as well as a passionate Discord community. 
Both the gaming and NFT industries have steadily been working more closely together recently, so the efforts of Funganomics are directed towards being able to capitalize on this growing global interest, especially with all the intrigue surrounding the P2E concept, NFTs, and the metaverse as of late.
Axie Infinity is a true pioneer of the sector, a game that's now played by over 2,250,000 players across the globe. P2E gaming is the future of gaming on all devices. Seeing how Axie has progressed has been a breath of fresh air. Although FUS isn't the same model exactly as we want to bring more fun to the P2E gaming space.
Opensea offers anyone the opportunity to upload NFTs and sell them, huge traffic levels that no other platform has come close to matching. We have a totally different approach to our NFT platform focussing on quality over quantity. Giving projects the ability to launch with us but also harness the traffic that Opensea offers after launch. Our AR platform is like nothing else, we will continue to build the technology side of the project whilst growing the technology we already have in place.
BIC: I really believe you are trying to build an ecosystem for the future of NFTs and NFT gaming. However, how does that work in practice, for all the users? How would you briefly describe Funganomics in terms of its main purpose within the current market?
JR: Funganomics knows that the future of blockchain technology is NFT's, P2E Gaming, VR/metaverse and AR. Put simply, Funganomics strives to become the primary provider of a completely customized P2E (Play To Earn) gaming platform and NFT community, all while utilizing the most cutting-edge and innovative technology available. 
A cross-chain solution that's originally built on BSC Chain will be a premium and unique online community which aims to bring together numerous constituents from various industries, including but not limited to P2E gamers, developers, the metaverse, and NFT investors.
BIC: By the way, your group is basically divided into three main divisions as far as I know: FGS Games, Fungality, and Fungatopia. What is the difference between them? What niche does each one cover?
JR: FUNGATOPIA
Fungatopia is our NFT platform – Gaming, Metaverse, Artists. The platform is an essential part of the Funganomics ecosystem, which itself has been created with the goal of rewarding the community members, partners, collaborators, and gamers whilst simultaneously also helping artists and brands scale seamlessly and quickly within the blockchain and NFT community.
FUNGALITY
Virtual Reality is the development of a fully digital environment given to our senses in a particular manner wherein we experience it as if we were physically present via artificially accounting for cognition as well as human perception. It is now the leading technology for reality emulation and employs a wide range of technologies to generate the experience. Augmented Reality is becoming similarly popular as well.
Funganomics understands the potential of this kind of technology and its relationship with the ever popular metaverse, and so by building our VR and AR division known as 'Fungality', we are horizontally aligning our platform to be equipped, ready, and poised to embrace this technology for the benefit of our members and community.
FGS GAMES
Whether the game offers a quest directive that leads you to game completion, puzzle & problem solving, racing, action/adventure, shooting, real-time strategy, or RPG Funganomics, FGS Games has a clear ambition to provide gaming experiences across many different genres.
This will guarantee that Community Membership offers our users the chance to earn the rewards that they want within the game setting which would be best suited for them Funganomics, therefore, has a number of games in the seed concept and production stages which we are delighted to deliver to our community members as they accompany us on our adventure.
BIC: What about augmented reality? What are your plans for it within Funganomics?
JR: While VR-based games necessitate the usage of specialized VR equipment, just a few AR systems do. AR is an interactive experience of a real-world environment in which real-world objects and physical items are augmented with computer-generated perceptual information.
This can occur across numerous sensory modalities that are not generally discussed, such as auditory, visual, olfactory, and haptic, with additional somatosensory functions being the capacity to understand most physical feelings in general.
In most cases, basic AR gaming is the real-time integration of two of these senses, namely game visual and audio with the user's environment.
Funganomics intends to investigate all of these gaming options as part of our long-term plan in order to deliver you new and engaging sensory AR games and reward-based models. Stage 1 of our AR platform is already built!
BIC: Cool. I would like you to talk a little bit more about FUS then. It's a web-based game that mixes both the old arcade-style gameplay and modern advancements within the Blockchain sector, right? What else to mention?
JR: Yes. With Funganomics Ultimate Showdown, you may become a clan owner by minting your own clan and taking your gaming ability to the next level by being a manager or player-manager.
Clan owners have the ability to choose which players will be a part of their clan. It is very important to select your players wisely though, as there might be some big rewards up for grabs.
Also, clan owners shall get 5% of players' earnings in addition to 40% of monthly clan rewards if their clan finishes in the top 5 in the league. The higher the league, the greater the reward pool. FUS also has monthly clan leagues, weekly player leagues, battle royales, and more, so there is definitely a lot to look forward to on this front.
BIC: Got it. It's time to introduce your native token to our community! What do you have to say about FGS in terms of tokenomics and how will it fit within your ecosystem?
JR: The initial Marketcap is $1,250,000, Presale Token Price is $0.10, public sale price is $0.25, Soft Cap is $2,000,000, Hard Cap is $5,000,000, Total supply is 1,000,000,000. The supply shall be allocated via the following:
5% for presale20% for public sale13% for the team18% for staking14% for P2E5% for exchanges12% for AR5% for partnerships4% for technology, platform and marketing4% for charity
Through FGS deployed on Binance Smart Chain, we essentially wish to empower blockchain and NFT enthusiasts while also catering to the gaming community. Funganomics is hence fully committed to providing unique NFT products and educating those who are open to learning about this sector.
Staking has a variable APY model for different staking durations.
The Funganomics ecosystem provides Utility across each of its products.
Fungatopia – A 10% Discount will be provided for NFT purchases through our platform & token.FGS Games – Character drops and transaction revenueFungality – In game purchases and partnerships
BIC: Several projects currently use some strategies to maximize the number of holders. What are some of the benefits for those ones who hold your tokens? Will you also have a similar strategy? 
 JR: The best strategy would be to offer the best products and services. We truly believe in what we are doing at Funganomics and also in the potential that blockchain, crypto, NFTs and most recently the metaverse all have.
As such, those who hold our tokens will be able to take part in a project that is at the forefront of this kind of new digital frontier, and the token holders will therefore also be eligible to receive discounts, additional bonuses, and much more.
We have marketing plans in place to grow our community through our NFT drop, publications, and influencers. 
BIC: I bet some of our members are curious about how to buy some FGS right now. Is there an official presale going on? More details would be highly appreciated.
JR: Presale Token Price is $0.10, the public sale price is $0.25. This is our current pricing, the presale price could increase as the pre-sale moves forward. 
BIC: Great! I took a look at your roadmap and it's fully packed with activities. What can enthusiasts/investors expect when it comes to future plans? What do you have in mind for Funganomics in the next few weeks or months?
JR: Well, the most immediate things that everyone can look forward to are the NFT character drops, our NFT platform both of which shall be released this month. After that, we have the AR Beta in March, followed by the official Game Launch in May. Plus many more announcements throughout the year. 
BIC: Awesome, that's it. I'm quite sure we've covered all the main topics today. Could you please share all the links to your Social Media channels so that our community can get to know Funganomics a little better?
Sure.
Community support is one of the key factors leading to the project's success. Do you have any incentive program or event to attract and expand your ecosystem, thus increasing users' experience? What is your governance model to give the power to community members?
JR: We want to offer a DAO model on our NFT platform so the community can have input into its growth. It's something we've discussed at length. We will add the features and functions shortly. We have a great development team to implement!
What are the radar major partners now and have you done any partnership with ventures? Is there enough funds raised by your project?
JR: The project has been funded internally to date and with one investor. I wanted to invest in the project myself before any investment is true from the ground-up project. Partnerships will come shortly. I feel it's best to show what you"ve built rather than ideas and concepts.
Can you tell us more about your marketing, for global adoption and wider reach?
JR: This will be through our technology as we grow. We will seek additional VC funding once we have working products in the market to boost our finances for further growth. It's the only true way to create a great project. Global adoption is the target.
Music NFTs have opened up financial doors to artists that seem to be slowly closing. How will this new revenue stream be developed in Funganomics, what is the advantage?
JR: It's sad to see how artists get very little revenue in return for the amazing skills they've been gifted with. We have links to many artists in our influencer community. We also have specific technology to enable scale in the artist sector.
Is your staking live now? Can you provide me with the website link and what is the minimum amount to stake?
JR: Staking is not live yet although it's on the roadmap for our developers already. We are building a robust staking platform for the community. We will provide updates shortly.
Disclaimer

All the information contained on our website is published in good faith and for general information purposes only. Any action the reader takes upon the information found on our website is strictly at their own risk.