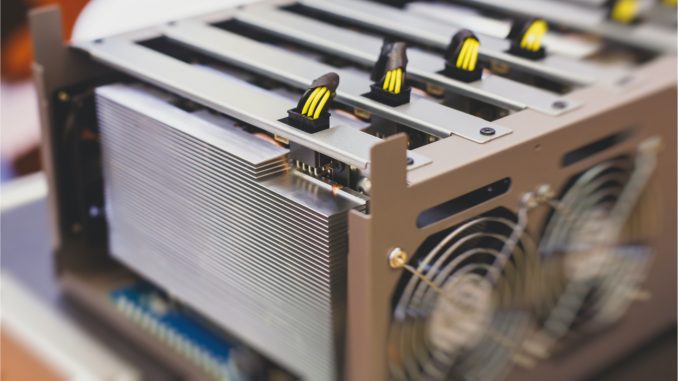 Bitcoin's hashrate has been riding high again as the processing power tapped another lifetime high on January 15, 2022, reaching 219.68 exahash per second (EH/s). The new record follows the previous all-time high (ATH) on the first day of the year, when the network's hashrate tapped 219.5 EH/s.
Bitcoin's Hashrate Hits a Milestone, Analyst Discusses Miner Capitulation, Estimated Bitcoin Production Cost
Bitcoin miners are dedicating a lot of SHA256 processing power to the BTC network on January 15, as the network quickly reached an ATH just after 12:00 a.m. (EST). The record was just a hair above the previous ATH on January 1, at 219.5 EH/s as today's hashrate reached a high of 219.68 EH/s. At the time of writing, the network's hashpower is coasting along at 199 EH/s.
The rise follows the recent drop in hashrate that happened while citizens of Kazakhstan revolted against the government and the internet was temporarily shut off in the country. It was widely speculated that the hashrate dropped 15% because of the issues in Kazakhstan but miners in the region claimed this was not the case. Data indicated at the time that BTC's price drop and mining difficulty increase contributed to the 15% loss in hashrate.

In addition to the price drop and difficulty increase, estimates say the production cost to mine a single BTC today is $34K. Twitter account and analyst Venture Founder recently explained that the production cost price point is around 20% below the current value. "The worst dumps bitcoin ever had, were due to miners' capitulation (Dec 2018, Mar 2020), when bitcoin fell below production costs, it is at risk for miner capitulation," the analyst tweeted. Venture Founder added:
[Bitcoin] was at risk for miner capitulation at $30k in May. The current production cost is $34k, 20% below [the] current price.
Bitcoin's Mining Difficulty Expected to Increase 3.8% in 5 Days to New All-Time High
While it was expected to happen two weeks ago, Bitcoin's mining difficulty will likely reach an all-time high during the next epoch change. The next difficulty change is expected to happen in just over 5 days from now and estimates indicate it might rise 3.83% higher than it is today. If it does rise to that point and reaches 25.31 trillion, Bitcoin's mining difficulty will reach another lifetime high.
The last mining difficulty ATH of 25 trillion was on May 13, 2021, and four difficulty decreases — including the largest epoch decrease ever — dropped the difficulty down a great deal. Since then, and after July 17, there's been a total of 12 difficulty increases and just one decrease.
On Saturday, the largest bitcoin mining pool is F2pool with 15.57% or 28.88 EH/s and the second-largest pool is Foundry USA with 15.55% or 28.80 EH/s. Both pools have been jumping back and forth during the last few weeks in terms of Bitcoin's largest mining pool.
What do you think about the recent hashrate high recorded on January 15, 2022, and the upcoming mining difficulty ATH that is expected to happen in five days? Let us know what you think about this subject in the comments section below.
Image Credits: Shutterstock, Pixabay, Wiki Commons
More Popular News
In Case You Missed It
Near Foundation Raises $150 Million to Bolster Web3 Adoption
On Thursday, the Near Foundation announced the project has raised $150 million from strategic investors such as Three-Arrows Capital, a16z, Mechanism Capital, Dragonfly Capital, and Circle Ventures. Following the announcement, the Near protocol's native crypto asset jumped more than 7% … read more.