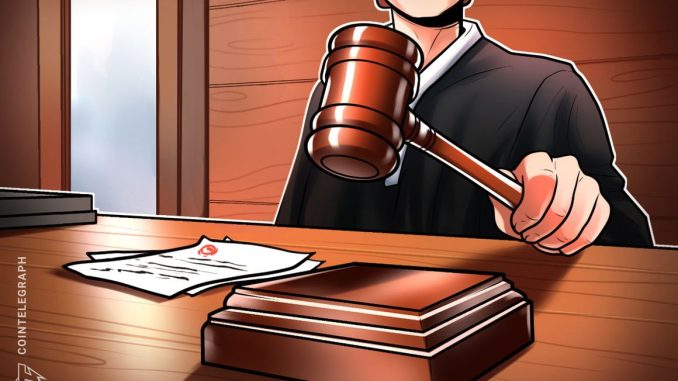 A federal judge has approved a joint request from lawyers for Alex Mashinsky and the United States Department of Justice modifying the former Celsius CEO's bail conditions to include electronic monitoring.
In an Aug. 8 filing in U.S. District Court for the Southern District of New York, Judge Gabriel Gorenstein signed off on a modification to Mashinsky's $40-million bond ensured by his brokerage account at First Republic Bank and his New York home. Prosecutors and defense lawyers jointly signed a request to have Mashinsky under electronic monitoring and be restricted from withdrawing, transferring or receiving more than $10,000 without prior approval from the court. The bail modification would remove the need to use Mashinsky's First Republic account to ensure the bond.
Following a motion from prosecutors with the consent of Mashinsky's legal team, Judge John Koeltl ordered on Aug. 9 that most of the trial materials not publicly available could not be disclosed by any involved party, specifically mentioning social media posts on Facebook or Twitter (now X). The order included concerns about information being released that could lead to witnesses being intimidated.
Mashinsky, who was the CEO of the crypto lending platform Celsius Network until September 2022, faces charges of securities fraud, commodities fraud and wire fraud for allegedly misleading and defrauding users. Following his arrest on July 13, he pleaded not guilty to all counts and was largely not allowed to travel as part of his bail conditions.
It's unclear what form of electronic monitoring Mashinsky could have. The bail condition often comes with a wrist or ankle monitor that alerts authorities to a subject's location at all times. Former FTX CEO Sam Bankman-Fried is under similar restrictions, but also largely confined to his parents' California home. 
Related: Everything that's happened with Celsius and Alex Mashinsky so far
Celsius filed for Chapter 11 bankruptcy in July 2022, prior to Mashinsky's departure. The U.S. Commodity Futures Trading Commission and Securities and Exchange Commission later filed civil cases against the platform and former CEO, with the Federal Trade Commission fining Celsius $4.7 billion for "duping" users.
Roni Cohen-Pavon, the former chief revenue officer of the lending platform and Israeli citizen, faces similar charges for his alleged involvement in activities at Celsius. However, at the time of Mashinsky's arrest, he was not in U.S. custody.
Magazine: Tiffany Fong flames Celsius, FTX and NY Post: Hall of Flame