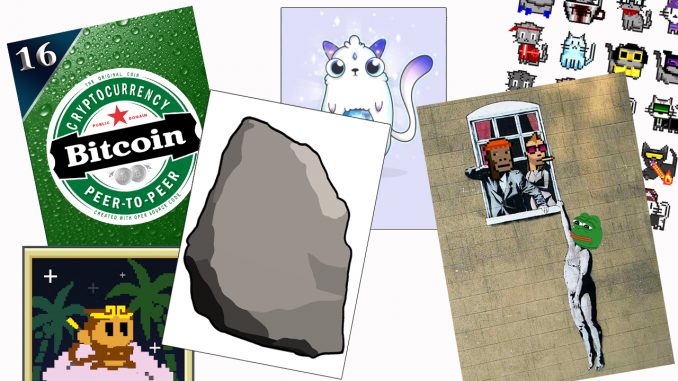 In 2021, non-fungible tokens (NFTs) have been extremely popular and have become a billion-dollar industry this year. There's been a number of NFT marketplaces and collections that have seen a massive number of sales and individual digital collectibles have sold for millions. The NFT hype has also caused significant demand for some of the earliest known NFT collections like Spells of Genesis cards, Curio cards, Bitcorn, Rare Pepe trading cards, and even Fake Rares.
Older Non-Fungible Token Collections See Fresh Demand
Old non-fungible token (NFT) collections are seeing fresh demand after the NFT hype in 2021 exploded. Most people are unaware that NFTs have been around since roughly 2014 when someone created an NFT called OLGA.
Following the creation of OLGA, the next year saw the birth of Spells of Genesis (SoG), Terra Nullius V2, Etheria v1.1, and Etheria v1.2. Since the 2021 NFT hype, SoG cards sell for a lot more than they did when the cards first launched.
SoG cards are selling for a couple of hundred dollars to upwards of $2K per card. NFTs stemming from Terra Nullius V2 have a floor price of 0.04 ether or $150 in USD value on the NFT marketplace Opensea.
People can still buy Etheria world NFTs via the Etheria exchange but a minimum bid is 0.1 ETH or $385 per unit. Sarutobi Island NFTs crafted in 2016 have seen fresh demand and have a floor price of around 0.03 ETH or $115.
Similarly, NFTs such as Force of Will, Rare Pepes, Age of Chains, Pixel Map, and Bitgirls sell for a lot more than they did in 2016. For instance, Pixelmap NFTs sell for a floor price of 0.75 ETH or more.
Rare Pepes, Curio Cards, Cryptopunks, Axies, and Crypto Kitties
The entire collection of 1,774 Rare Pepe NFTs currently have an overall market capitalization of around $4.1 billion today. Vaulted Rare Pepes are selling for big money on Opensea and also selling for counterparty (XCP) via the XCP decentralized exchange (dex) and dispenser sales.
The popular My Curio Cards from 2017, have a floor price on Opensea at 0.299 ETH or $1,151. Some Curio cards are being auctioned for a 1-2 ETH in value as well. The same can be said for older 2017 NFT collections and Cryptopunks issued that year have seen the most demand.
The Cryptopunks floor price for a single digital collectible is not cheap as dappradar.com stats show it's $235.43K today, however, the average price is around $119.75K per punk. The 2017 series of Cryptopunks has seen $2.32 billion in all-time sales.
Other popular 2017 series NFT collections include Diecast Club Collection, My Blockchain Corner, Digital Zones, Mooncatrescue, Dada Creeps & Weirdos, Crypto Kitties, Weicards, and Ether Rocks. These collections are also seeing much higher values and fresh demand from NFT investors.
Crypto Kitties were so popular during the first week of December 2017, the project congested the Ethereum blockchain and the project's NFTs still have demand from collectors. Despite a lot of attention in 2021 and a myriad of NFT collections launched this year, 2018 also saw significant progress toward the current NFT ecosystem we know today.
NFTs from 2018 collections also sell for high dollar, as NFT collections such as Ethertulips, Crypto Fighters, Angel Battles, and Etherlambos. Axie Infinity non-fungible tokens were launched in 2018 as well and the Axie NFTs have seen a lot more demand in 2021.
Old school projects such as Pixelcons, Crypto Graphics, Realms of Ether, Cryptocats, and many other collections are seeing sales they may not have seen if it wasn't for the exponential growth of the NFT industry. In fact, old school NFTs from collections minted long ago are becoming sought after for their rarity and age.
What do you think about the old-school NFT collections that are seeing higher-priced sales and fresh demand after all these years? Let us know what you think about this subject in the comments section below.
Image Credits: Shutterstock, Pixabay, Wiki Commons, SoG, Curio Cards, Rare Pepe, Cryptopunks, Axie Infinity,
More Popular News
In Case You Missed It
USDC Sees Native Launch on Avalanche
USDC, the second leading stablecoin by market cap, has been launched on the Avalanche blockchain as a native token. Previously, users wanting to get USDC in Avalanche had to bridge it via Ethereum. Now, Circle, the issuer of usd coin … read more.