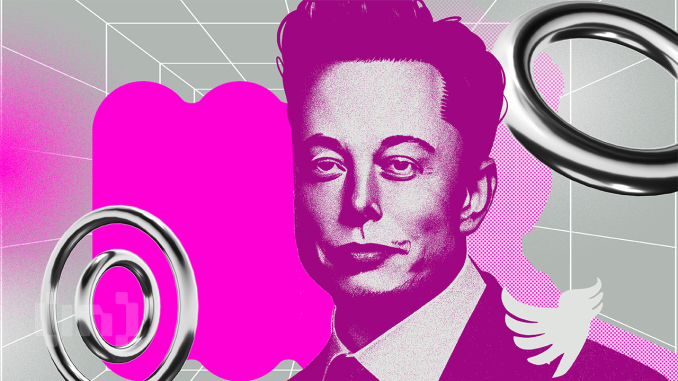 Elon Musk has ruled out an X/Twitter crypto token and insisted he has no intention of launching one.
The comments came after the TwitterDAO coin pumped and then quickly dumped on Saturday. Twitter has never endorsed the token. Only its name connects it to the social media brand.
Commenting on a post about the issue, Musk asserted that neither he nor the platform he owns have launched a token and that they "never will".
TwitterDAO Pumps and Dumps
TwitterDAO is a BEP-20 token that arrived on the scene on August 3. Available only to swap on for WETH on decentralized exchanges and with no obvious online presence otherwise, it showed all the telltale signs of a classic crypto pump and dump.
Lo and behold, on Friday, the token surged by 11,800% in just ten hours. But just as quickly as it exploded, the price of TwitterDAO collapsed back down to nearly zero. 
An analysis of trades listed on CoinMarketCap shows that the token price peaked at $0.0001193 on Friday afternoon. Shortly after, the biggest dump occurred at $0.000018, netting its seller around $54,000 in WETH. The final trade of the day valued TwitterDAO at just $0.0000052931.
Twitter, Dogecoin, and Elon Musk
Speculation that Elon Musk could launch a cryptocurrency for use on Twitter/X has circulated ever since he bought the platform in 2022. 
The tech billionaire is idolized by certain segments of the online crypto community and has long embraced his role as the "Dogefather" endearing himself to Dogecoin (DOGE) fans.
Musk's association with the meme coin has even landed him in legal hot water following allegations of market manipulation and insider trading. However, recent trends suggest that his influence on the price of DOGE may be waning.
X Token Rumors Unfounded
There has never been any official announcement to support the idea that Twitter could launch its own coin. But after Musk rebranded the platform to X, the theory was reignited.
For example, one user of the platform, cyclops, erroneously tweeted that an "$X" coin was confirmed. 
The account has only a modest following of roughly 31,000 which they amassed by mostly retweeting airdrop opportunities. Nonetheless, other users picked up cyclops' assertation that a Musk-approved X coin was on the way and the rumor gained some traction throughout the week.
Elon Musk Has No Plans to Launch His Own Crypto
On Saturday, Musk commented on a social media post warning people to be wary of news articles suggesting the existence of any officially endorsed Twitter/X cryptocurrencies.
An account going by the name of DogeDesigner attracted Musk's attention with a Tweet pointing to reports on the TwitterDAO and non-existent X tokens. 
The post cautioned DogeDesigner's followers that "Elon Musk and X have never launched a crypto token." To this, Musk responded, "and we never will".
In four words, the Twitter/X owner dispelled rumors of a potential X token. His comment will likely shut down speculation that the platform could launch one. 
But ultimately, the effects of Musk's assertive statement on the matter remain to be seen. And it may not dissuade crypto projects from attempting to piggyback off his personal brand and those of the companies he owns.
Twitter and X aren't the only Musk-associated brands that have been appropriated by unrelated tokens. Over the years, coin developers have also deployed Tesla and SpaceX in a similar manner.
And as long as Musk remains a high-profile public figure with a special appeal to meme coin aficionados, such appropriation may still prove attractive.
Disclaimer
In adherence to the Trust Project guidelines, BeInCrypto is committed to unbiased, transparent reporting. This news article aims to provide accurate, timely information. However, readers are advised to verify facts independently and consult with a professional before making any decisions based on this content.